It's officially Summer – and while pool parties and cookouts rule the social calendar, some of us are left wondering, "Is it Halloween yet?" Not only is Halloween the best night of the year, but the morning after, still faux bloodstained and maybe a little hungover, you went to your local retailers and worked your clearance magic – and now you have all these great Halloween items you haven't even used. Summer is just that sunny, hot period of time before you can break it all out.
Or is it?
Christmas in July is fine, but what about Halloween in July? Or June? Why not get all your friends together for a party filled with all the amazing things you scored on November 1st, good food, and cold drinks?
Start with the basics. You've probably picked up fifteen varieties of Halloween place settings, barware, napkins, and dollar bin discounts over the years. There doesn't have to be a "theme" since your theme is Halloween. If you have some really amazing pieces, and you plan to get rowdy, maybe keep those in the cabinet or put them on display, rather than handing them out alongside Jello Shots (don't worry, Jello Shot ideas are coming).
The next step is to look at all the stuff you have left, and make it weather-appropriate. You've probably got a load of cool cake molds and cookie cutters, but who is going to turn the oven on in this heat – especially when you could be making Jello-Shots and kickass ice cubes instead?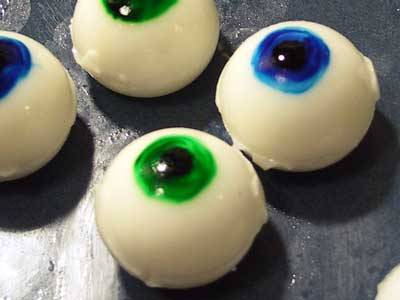 After you and your friends have ingested a dozen coffin-shaped Jello Shots and had plenty of spiked punch with skull ice cubes in it, you're going to want to eat. We've already established that turning on the stove or, devil forbid, the oven is out of the question. What you need is a nice spread of cold foods and some stuff on the grill.
First, check out this amazing Instructable that's quick, easy, and looks dark as hell. It's as simple as buying some cheap prosciutto and getting handsy with one of your plastic skulls (and yes, make sure it's cheap – the link explains why).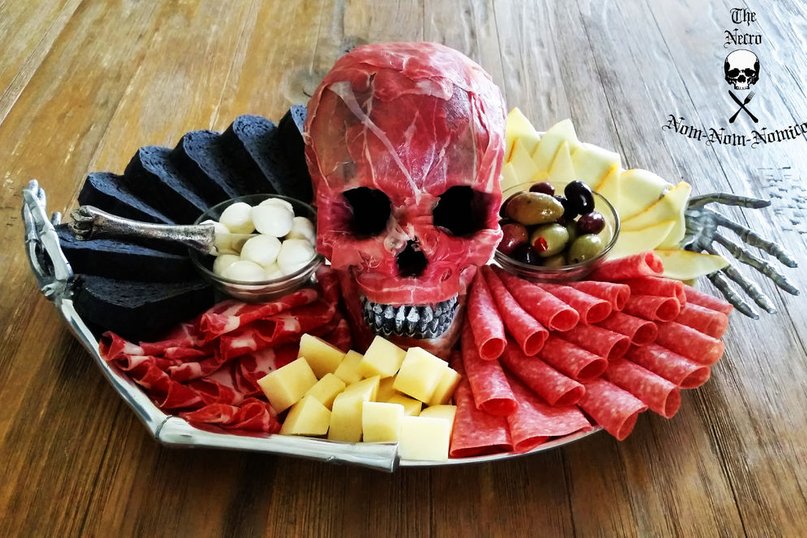 While your guests snack on human flesh and enjoy your spiked jigglers, you can get to grilling, which is the coolest (literally) way to prep food for your hungry friends. Throw on your awesome black metal apron and stick some weenies on Cthulhu's tentacles and get to work.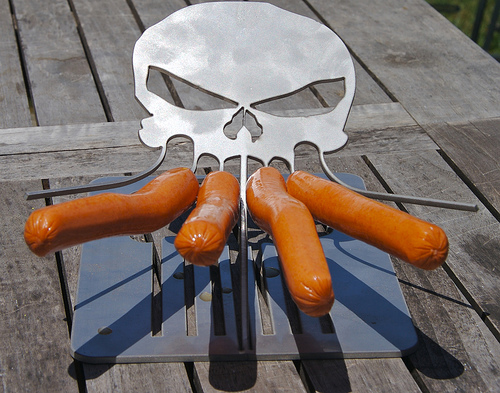 If you really want to take your summertime Halloween party to the next level, slice some apples and throw them on kebab spears. Grill 'em up and provide a little caramel for dipping sauce (perhaps displayed in a repurposed tea light holder) for summer-appropriate hot candy apples. Load up on death-themed hot sauces like Blair's Ultra Death Sauce, Grinder's Death Nectar, or the vegan-friendly Dead Twisted sauces.
Now that you've got the menu sorted and the plates ready to go, all that's left is the decor. You've got this – you've been doing Halloween your entire life. Trade in paper lanterns for hanging skulls with faux tea lights, or line the walkway to your door with luminaries you've made using outlines from your pumpkin carving book. Toss around all the cool Halloween stuff you don't have out all year (because who has the space?).
Let your neighbors have as much summer-themed goodness as they can get from the stores that cater to them year-round. There's no shortage of Star-Spangled cookouts you can attend to get your fix of traditional summer – but don't wait for Halloween to let your freak flag fly. Fire up the grill, blast the Bauhaus, and have fun!
And if you can get your hands on one of these, all the better: